Ray and Charles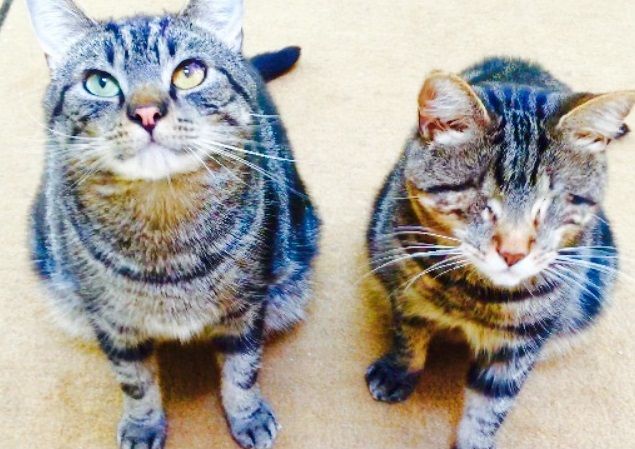 Many of us remember hearing about Ray and Charles, one year old kitty brothers, one of whom is blind, when they were rescued and awaiting adoption. It gives us great pleasure to provide this update from their new family:
"The boys are doing fantastic. It took a little while for them to adjust. Poor Ray would barely come out from the couch for the first week. They both took to my sister Miranda first and she still has a special bond with Charles. They both were really good meeting our other animals. Ray really enjoyed his first meeting with our rabbit. After a couple of weeks and introductions to all our animals they started venturing out more and more. Ray led the way. He is the more inquisitive of the two. Now they are blended perfectly with our family. Charles is still a bit shy of others but loves spending his time looking out windows, watching sports with my dad or spending time with Miranda. Ray is everywhere, into everything and is great with everyone in our family. He likes to greet people when they come home. His favorite thing to do is "help" my mom make her bed after breakfast every day. They get along with all our other pets but still prefer each other's company the most. We are so thankful to Jay for his care of them and that he raised such wonderful kitties. They are a joy and make all of us so happy. We would like to thank Forgotten Cats for allowing us to adopt such great cats that bring so much to our lives."
Happy adoption, Ray and Charles!
Next Happy
Previous Happy
Happy Index